Midnight Succubus VR
A downloadable VR Movie Experience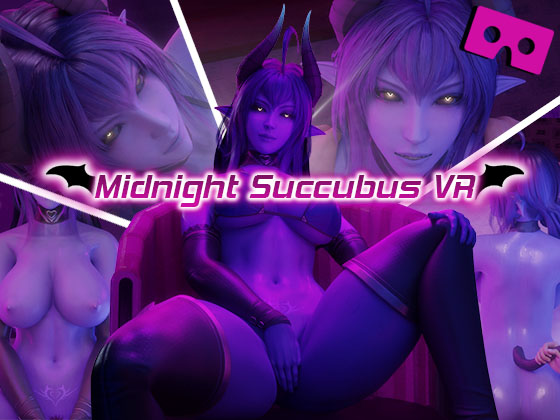 Midnight Succubus is a collection of VR CGI videos that can be run in your favorite VR player supports PC PS4 and smartphone.
You read about a way on how to summon a succubus online. After performing the ritual you sigh disappointingly, well it was never really going to work right?
As you settle into bed at the dead of midnight there is a knock on your door!
You are greeted by someone who doesn't look human, a real succubus?!
She pushes you back inside, "You summoned me after all, now i will need to fuck you as payment!"
She lays you down and plays with your cock in hand staring at you, soon to be her meal.
Be ready to be fucked all night long! As she massages your cock with her big breasts and rides your dick into the night!
If you like what we do then why not check us out on our patreon for 100's of the worlds best CGI VR content!


Purchase
In order to download this VR Movie Experience you must purchase it at or above the minimum price of $4.99 USD. You will get access to the following files:
Midnight_180_LR.part1.rar
950 MB
Midnight_180_LR.part2.rar
950 MB
Midnight_180_LR.part3.rar
950 MB
Midnight_180_LR.part4.rar
950 MB
Midnight_180_LR.part5.rar
950 MB
Midnight_180_LR.part6.rar
480 MB
Comments
Log in with itch.io to leave a comment.
Doesn't work. always has a read error, have tried everything.
wasted $5 on this NOT WORKING hentai (files are not working correctly)
dropbox link keeps says 404 not found
try now thanks currently we found a fix and shifting all content over so we wont have over downloading issues in the future
can I only download it through pcloud? It says I would need to buy premium which costs a lot if I wanted to download the video.
sorry the service hit a download limit the link gets a lot of downloads ive replaced that now so you can download it free you shouldn't have to pay anything try again now please
Hello there, I'm pretty sure I saw this exact same thing once on PH, but when I raised and lowered my head the entire room, bed, succubus, etc, moved with me, to stay centered. Is it the same with this version? Or does everything stay in place when my head is moved like a proper VR game?
every time I try to download it. I get a 404 error at dropbox. is there anyone who knows wat to do?
hi there so sorry about this dropbox was having issues im switching the links to a better solution since dropbox is being a dingus